When you have a Sub-Zero refrigerator in your kitchen, it's pretty clear you have high standards for keeping food fresh. So why would you lower those standards when it comes to getting Sub-Zero refrigerator maintenance? Should issues such as leaking or inadequate cooling affect the performance of your Sub-Zero fridge, All Bergen Appliance Service is available to ensure that your unit gets nothing but the best in refrigerator repairs. In the Bergen County region, we're pleased to be your one-stop shop for Sub-Zero repair, including quality replacement parts. To learn more about our Sub-Zero refrigerator repair services, call or e-mail us today!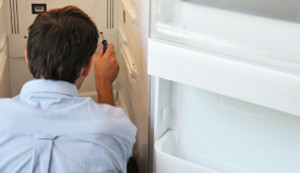 While some refrigerator repair companies shy away from working on Sub-Zero models, we don't. At All Bergen Appliance Service, our local refrigerator repair pros are perfectly at home diagnosing and fixing these upscale models. Whatever type of problem your unit is experiencing, simply put in a call to our qualified technicians. We can help with the full range of Sub-Zero refrigerator repair issues, including:
Lack of cooling
Too much cooling
Leaking
Loud or strange noises
Frequent cycling on and off
Failing to turn on at all
Unusual smells
And more!
You can feel 100% safe trusting your valuable appliance to our Sub-Zero fridge repair team. We have 40 years in the refrigerator repair business, and in that time, we've had plenty of hands-on experience with Sub-Zero models. What's more, we train regularly at All Bergen Appliance Service, so our local refrigerator repair technicians are informed on the latest fridge repair techniques. We'll work swiftly yet carefully to resolve your Sub-Zero repair problem, no matter how serious or straightforward it may be.
Specialists in Sub-Zero Fridge Repair
Despite their high level of quality and performance, Sub-Zero refrigerators are not immune to repair problems. Luckily, whether that means fixing a condenser fan or replacing a door gasket or other component, you can breathe easy knowing that our refrigerator repair team has the skill and experience to properly resolve your Sub-Zero fridge issues. We know how important your refrigerator is to you and your family, and we're committed to providing Sub-Zero refrigerator repair as promptly and thoroughly as possible. We're also licensed, insured, and EPA certified, so you can always feel confident hiring us for your Sub-Zero repair needs in and near Bergen County.
If you're experiencing Sub-Zero refrigerator problems, turn to local technicians who know how to handle your top-of-the-line fridge. For Sub-Zero repair specialists you can trust, call All Bergen Appliance Service today!