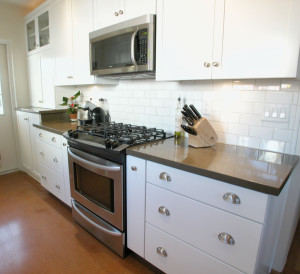 If you're worried about having to buy a new refrigerator because your current fridge isn't working properly, contact All Bergen Appliance Service instead! Purchasing a brand-new appliance can be pricy, and often isn't actually necessary. Even if it seems like there's no hope for your appliance, you'll be surprised at what a professional appliance repair service can do. Offering affordable solutions for washer-dryer repair, refrigerator repair, and beyond, our team works to make sure you get cost-effective answers to your malfunctioning appliance problems. So instead of spending tons of your hard-earned money on an expensive new appliance, why not get your existing appliance returned to like-new condition. Call now to schedule your service appointment!
Affordability is the name of the game at All Bergen Appliance Service. We're committed to providing affordable major appliance repair service to homes in Bergen County and environs, so you can stick to your budget even when you need a major air conditioner repair or dryer repair. Unlike appliance repair companies that charge you a sky-high service fee on top of your repair costs, All Bergen Appliance Service applies the trip charge toward your repair, helping keep your overall cost down. We even stock most parts in our service vehicles for efficient, on-the-spot repairs. When you find yourself in need of everything from washing machine repair to dishwasher repair, our professionals can make your appliance repair fast and budget-friendly.
All Bergen Appliance Service specializes in repairs for Sub-Zero, Miele, KitchenAid, Viking, Thermador, Maytag, Whirlpool, GE, Garland, and Wolf, but we are also available to service all other major brands.
Professional Appliance Repair Team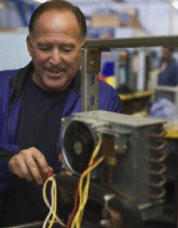 At All Bergen Appliance Service, we have two qualifications that put us a step above the rest: experience and training. We opened our appliance repair company in 1974, so we're no Johnny-come-lately in the appliance services industry. Our professionals have 38+ years of experience under our belts, and in our time in the business, we've seen just about every refrigerator repair or oven repair problem at least once. All Bergen Appliance Service uses all of this hands-on knowledge and skill to make sure that your appliance repair services are not only done correctly, but that they're also handled efficiently and completely.
But at All Bergen Appliance Service, we don't just rely on on-site experience for our training. We also work hard to stay up to date with all of the changes and developments in the appliance repair industry. As you may or may not know, regulations in our business have become much stricter over the last five years, and it's harder to maintain your appliance repair licenses and certifications. However, unlike some disreputable repair companies, All Bergen Appliance Service stays on top of all of our certifications and trainings. Every one of our major appliance repair technicians renews his license each and every year, and much of our team has specialty training for Sub-Zero and other domestic and foreign brands. In short, we make certain our licenses and our expertise are current to ensure our customers receive nothing but the finest appliance repair quality around.
Garbage Disposal Repair
Does your garbage disposal sound like it's gargling glass? Is it not turning on at all? When your garbage disposer is acting up, All Bergen Appliance Service can help return it to full functionality. We offer complete garbage disposal repairs and diagnostics to eliminate both the source and the symptom of the issue. From frightening noises to grinding problems, our garbage disposer repair services can locate the problem and make sure it is fully resolved. So instead of just living with that leak or continuing with the inconvenience of a damaged disposal, call in All Bergen Appliance Service for fast, effective garbage disposer repairs and get your disposer back to working properly.
Microwave Repair
If you've never lived without the convenience of a microwave, it's hard to envision your life without being able to heat up leftovers, boil water, or cook food at the touch of a button. That is, up until the moment you start experiencing microwave problems! If your kitchen routines have ground to a standstill because of a malfunctioning microwave, contact All Bergen Appliance Service for over-the-range microwave repairs. With more than three decades of experience in appliance repair, our technicians have the skills to handle repairs for these complicated, and potentially dangerous, machines. Our microwave repairs will get to the root of the issue and completely resolve it, returning your microwave—and your kitchen—to convenient operation once again.