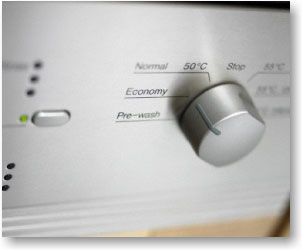 Washing your clothes efficiently and easily right from the comfort of your own home is a modern luxury that most of us can take for granted. However, any memory of convenience seems to dissolve when you have a broken washing machine on your hands. Average laundry chores can soon become the source of headaches and frustration if you're dealing with a washer that won't agitate, spin, or otherwise work properly. But instead of just hauling basket after basket of clothing to the laundromat or dealing with the leaks and noises your washer is creating, you need to bring in an appliance repair expert. Call All Bergen Appliance Service for washing machine repair and put an end to the insanity of your malfunctioning washer! Not only will our professionals get your washing machine back to tip-top condition, but our cost-effective prices will help ensure you save big over the cost of replacement.
Washing machine repairs vary in complexity, but just about all washer-dryer repairs are best left to the professionals. Any particular malfunction can have a variety of potential causes, and it takes a skilled, discerning eye to pinpoint the source of the problem with accuracy. Combining an intricate assembly of belts, drains, valves, and switches, washing machines are quite a bit harder to diagnose and repair than it may seem at first glance! But you're in luck: the appliance repair experts at All Bergen Appliance Service have 38+ years of experience performing washer and dryer repair. We've been in the appliance repair business since 1974, and all of the experience we've gained over the decades helps us troubleshoot and provide washing machine repair as efficiently as possible. We'll be able to get your unit back up and running in no time. Our technicians strive to provide you with quality customer service as well as first-class repair quality. At All Bergen Appliance Service, our washing machine repairs can address a number of common issues, including:
Out-of-order motors
Faulty water inlet valves
Damaged belts and pulleys
Inoperative water pumps
Blocked drains
Defective lid switches
Malfunctioning timers
And other performance problems
For your convenience, we service all of the leading washer and dryer makes and models, and we can perform everything from Whirlpool washer repair to Maytag washing machine repair. With accurate diagnostics and qualified appliance repairmen, our washer-dryer repair service will give you superior results at affordable rates.
All Bergen Appliance Service works hard to bring you the exceptional washer and dryer repair service you need to get your household back in working order. With our 30-day parts and labor warranty, you can have total peace of mind that you're receiving the highest quality workmanship and customer service. Whether you need GE washing machine repair or Maytag washing machine repair, we're the go-to pros for the job. Call or send us an e-mail today to schedule your service call!