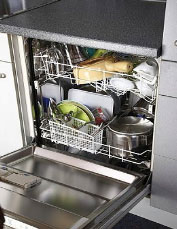 Dishwashers were designed to make your kitchen cleanup chores less time-consuming, but when yours starts to malfunction or behave erratically, you can be left with a serious problem. Whether your dishwasher is leaking pools of water or won't clean your dishes adequately, professional dishwasher repair from All Bergen Appliance Service will get your kitchen back up and running in no time. If your dishwasher is on the fritz, don't waste your valuable time or money trying to fix it yourself or replace it in full. Instead, let our team help with complete dishwasher repair services. At All Bergen Appliance Service, our dishwasher repair experts provide prompt, affordable service to get your dishwasher back to working its best—and make your household chores convenient once again. We provide dishwasher repairs of all kinds, from dishwasher rack repair to door switch repair to water inlet valve replacement, and there's virtually no problem we can't fix. All Bergen Appliance Service is here to help, so call today!
Our appliance repair company opened its doors in 1974, and our dishwasher repair experts have over 38 years of experience in the trade. When it comes to appliances like dishwashers, we've pretty much seen it all. Our professionals are fully licensed and trained to handle all types of dishwasher repair services, and we put our expertise to work on every repair job we undertake. All Bergen Appliance Service offers dishwasher repairs for nearly all major makes and models, so whether you need Bosch dishwasher repair or GE dishwasher repair, or repairs for any other brand, you'll get the superior quality you deserve. No matter what's causing your dishwasher woes, we'll eradicate your problem with thorough troubleshooting, accurate diagnostics, and friendly customer service. We go above and beyond to provide you with the dishwasher repair you need.
From simple dishwasher rack repair to float switch replacement and beyond, All Bergen Appliance Service does it all. With over three decades of experience, we can provide a full spectrum of solutions for the most common dishwasher repair issues, including:
Leaks
Damaged water inlet and drain valves
Broken door latches and switches
Defective door gaskets
Broken overflow switches
Faulty timers
Ineffective heating elements
And more!
Why spend hundreds of dollars replacing your dishwasher when the problem can be fixed with a simple, cost-effective repair? With the expertise of All Bergen Appliance Service at your service, professional, affordable dishwasher repairs are conveniently within your reach. Whether it's GE dishwasher repair or Bosch dishwasher repair, our skilled craftsmanship is almost always less expensive than purchasing a brand-new model. We also offer a minimum 90-day labor and parts warranty, so you can rest assured that your dishwasher repair will be completed with long-lasting workmanship. If you have questions or would like to schedule a service call, contact us today! We can provide same-day service in most cases, so don't wait to call.